Download the 'Do You Want to Become a 7-Figure Producer?'
E-Book
Our complete guide to introducing automation to your sales process with 20 Miles. Learn how to close more opportunities and grow your book of business using our insurance sales software.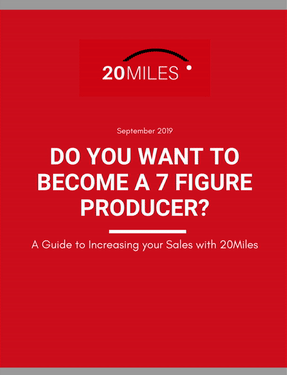 The Best Producers Use Tools to Stay on Top, Here's How You Can Too.
The only way to become a top earning producer is with consistency and a strong process for both acquisitions and nurturing. 20 Miles is an easy to adopt solution for new insurance producers looking to establish their clientele and seasoned producers looking for more time to grow their book. This E-book outlines how you can leverage our suite of sales tools to close more leads than ever. 
What's Inside:
Part 1: Prospecting
Part 2: Lead Prioritization & Follow-Up
Part 3: Renewals & Referrals
Part 4: Workflow Examples
Curious what 20 Miles could do for you or your agency?